FRONT 303MM 4POT KIT WILL FIT WITH MIN. 16" WHEELS
LIST OF AVAILABLE MODELS:
BMW E30 (non-M3) BKF-BM-02/A
BMW E30 M3 BKF-BM-02/B
If you have any questions or concerns about quality, production process, fitment,
warranty or any other subject please check out manufacturer`s FAQ on their website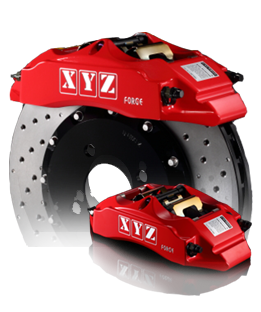 Complete brake kit content::
Two-piece type 303x28mm drilled disc x2 pieces
Lightweight aluminum center bell x2 pieces
Aluminum 4 POT calipers (Painted red, painted yellow, painted gold, painted black, anodized black) x2 pieces
High stiffness brake bracket x2 pieces
S/S brake lines x2 pieces
GG rated high performance brake pads x4 pieces/ 1set (HH rated race brake pad available on request)
Package with tools x1 set
Thickness of the disc is 28mm
Design of bigger vents provides a better function of heat dissipation.
Surface of the aluminum center bell is anodized. It will provide a better durability.
Design of a two-piece disc can effectively reduce the weight of the brake system.
Aluminum 4 POT forged and CNC machined calipers (Standard color: Painted red, painted yellow, painted gold, painted black or any other painted colors 100EUR extra)
High stiffness brake brackets with high ductility bolts
Stainless steel Teflon brake lines
GG rated high performance brake pads for fast road and track (HH rated race brake pad available on request)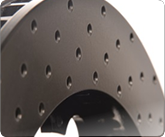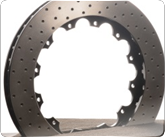 DISCS
The discs from XYZ are the best choice for high performance car models. Ventilated ribs with large diameter can smoothly lead in a great amount of airflow from inside to outside. It will make a better function of heat dissipation. The design of drilled discs can enhance friction factor, reduce the weight of discs, take out the high temperature immediately produced from working, and keep stable braking function. The thickness, 26mm, of the discs can provide a better structural strength. This 303mm brake system is suitable for a 16 inch or a larger wheel.
CENTER BELL
The center bells are made of aluminum. They are equipped with the characteristics of lightweight, good heat dissipation and high structural strength. The surface is IS anodized. It makes the center bells harder, increases durability in hard weather conditions, the duration of usage and make them look great too.

CALIPER
High performance forged and CNC machined aluminum 4 POT calipers. The standard colors are: painted red, painted yellow, painted gold, painted black,. You can choose any other painted color (extra 100EUR per set) to fit your car. Simply choose this option from drop down color menu and let us know color code after the date of purchase.

Caliper Color Options: Painted red, yellow, gold, black and anodized black are our caliper standard colors.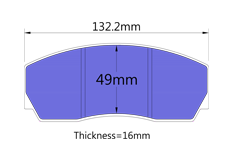 BRAKE PAD
XYZ tested many different types of brake pads by using them in racing competitions as well as in road applications. The brake pads that XYZ had chosen for their brake kits as standard, are high performance GG rated, low dust pads that can be used either for fast road driving or on the track. They guarantee low dust, worm up quickly don`t squaek and bite like a pitbull from first braking. As a spare parts you can use brake pads from many well known manufacturers like AP, HAWK, FERRODO or EBC.

Installation template - check if your brakes will fit